The Heart of Perfection:
How the Saints Taught Me to Trade My Dream of Perfect for God's

Spiritual perfectionism—an obsession with flawlessness rooted in the belief that we can earn God's love—steals our joy, dulls our faith, and leads us to view others as hypercritically as we think God is viewing us. As a lifelong overachiever who used to spell-check her high school boyfriend's love letters, Colleen knows something about the perfectionist trap. But it was only after she became a mother that she realized how insidiously perfectionism had infected her spiritual life and how lethal it could be to her happiness and that of her family. Looking to Scripture and the saints, she discovered that many holy men and women were recovering perfectionists whose blueprints for freedom in Christ still speak to us today. In The Heart of Perfection, Colleen weaves the stories of seven ex-perfectionist saints (and one heretic) with tales from her own experiments in applying their wisdom to her life. Hailed as "persuasive … enjoyable … and insightful" (Publishers Weekly), "full of insight" (America Magazine), and "absolutely excellent" (Jacques Philippe), this "must-read" (Jeannie Gaffigan) is a "useful guide … to the rigors of humility and joys of grace" (Booklist).
My Sisters the Saints:
A Spiritual Memoir

Honored by two national awards and published in five languages with over 100,000 English copies sold,  My Sisters the Saints has been praised as "provocative … charming and instructive" (Kirkus Reviews), "thoughtful and gracious" (Booklist)  and "completely contemporary and totally timeless" (Cardinal Timothy Dolan). The book tells the story of Colleen's 15-year spiritual quest and the six women saints who became her unlikely guides as she grappled with everything from the chaos of the campus party scene and the work-life dilemmas of a pressure-cooker White House job to the twin heartbreaks of her father's descent into dementia and her own infertility. Colleen found help and support where she least expected it: in the lives and writings of six holy women she came to regard as not simply spiritual friends, but sisters.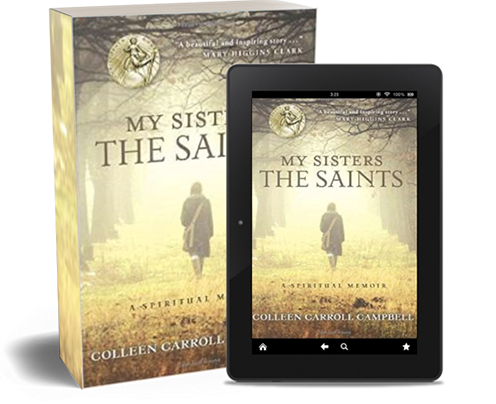 The New Faithful:
Why Young Adults are Embracing Christian Orthodoxy
Colleen's first book, The New Faithful, was a finalist for the ForeWord Magazine Book of the Year Award and a Catholic Book Publishers Association bestseller. Hailed as "novel and timely" (Publishers Weekly), "refreshing" (Wall Street Journal) and "a blockbuster of a book" (Canada's National Post) that is "a great resource" (CBA Marketplace) and "highly recommended" (Library Journal), The New Faithful blends firsthand reporting, storytelling and analysis to shed light on a trend with far-reaching cultural and religious implications. It has been featured in nearly 100 magazines and newspapers, including The Washington Post, Wall Street Journal, U.S. News & World Report, National Review and Christianity Today.