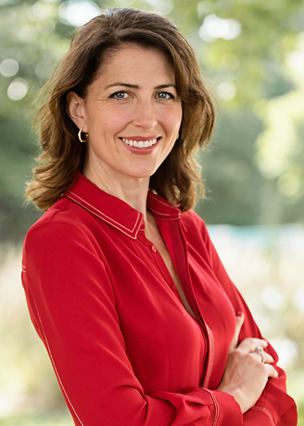 Welcome
Thanks for stopping by my online home! I'm an author, speaker, journalist and former presidential speechwriter – as well as a wife and mom of four who loves good books, tough hikes and quiet moments with God (when I can get them). My passion is connecting today's busy women and men with the spiritual wisdom of those who went before us, and sharing my own stories and struggles so we all feel less alone. I hope you'll make yourself at home here and join me on this journey.

The Latest Update
My spring speaking schedule is now online! Check it out to see if I'm coming to a city near you. (And if I'm not but you'd like me to, you can send speaking invites here.)
My newest articles and interviews are here:
• "Surprised by gentleness" for Touchstone Magazine
• "Is there such a thing as too much church reform?" for U.S. Catholic
• "St. Benedict, the patron saint of (recovering) workaholics" for America Magazine
• "Letting go of perfectionism by embracing weakness" (interview) for Catholic Women in Business
• "Today's perfectionists can find healing in the Sacred Heart" for Religion News Service
• "Three ways to cultivate joy as a perfectionist" for Guideposts
• "Letting go of fear" for ENDOW (excerpt from The Heart of Perfection)
• "Three keys to living as pilgrims in this world" for Crosswalk
•  "Surprised by the joy of the Lord" for the Theology of the Body Institute (excerpt from The Heart of Perfection)
Links to other recent interviews, articles and reviews (the ones available online):
Publishers Weekly
Christianity Today 
National Review
America Magazine
National Catholic Register
Catholic Answers Live on EWTN Radio (video also available)
The Drew Mariani Show on Relevant Radio (starts at 24:00)
Morning Air on Relevant Radio
Busted Halo on Sirius XM
Christopher Closeup on Sirius XM and Relevant Radio
Adventist Radio London (scroll down to episode)
Issues Etc. on Lutheran Public Radio
The Shepherd's Voice with Archbishop Joseph Naumann
A Closer Look on Relevant Radio (starts at 26:00)
Kresta in the Afternoon on Ave Maria Radio (starts at 38:00)
Catholic Connection on Ave Maria Radio
Discerning Hearts podcast/Inside the Pages radio
The God Show with Pat McMahon on Star Worldwide Networks
Good Things Radio
Thriving in the Trenches podcast
The Catholic Conversation podcast
While You Were Folding podcast
Mystery Through Manners podcast
Our Sunday Visitor
Crux
Englewood Review of Books
KTRS St. Louis News and Talk Radio
Ottawa Times
Catholic TV
Jon Leonetti in the Morning on Iowa Catholic Radio (starts at 18:30)
Outside the Walls
Aleteia (and another here)
Colorado Catholic Herald
Angelus News
Lisa Hendey and Friends podcast
Equipping Godly Women podcast
Off the Shelf podcast
Catholic Feminist podcast
Girlfriends with Danielle Bean podcast
Fountains of Carrots podcast
Every Flower Created podcast
Endow
Snoring Scholar
Blessed Is She
Catholic Mom.com (and another here)
Where Peter Is
Just Commonly
Here's a free sample of The Heart of Perfection audiobook, narrated by yours truly. If you want to read the book alongside Scripture, you might enjoy my new (free!) five-day reading plan for the YouVersion Bible App, which has had more than 2,500 completions from users of the app.
Of course, if you want the full story about the lessons the recovering perfectionist saints taught me—and can teach all of us—about trading the perfectionist trap for God's holy freedom, pick up a copy of The Heart of Perfection, available via the links below or anywhere books are sold. Happy reading!
The Heart of Perfection:
How the Saints Taught Me to Trade My Dream of Perfect for God's
Meet Colleen
Colleen Carroll Campbell is an award-winning author, print and TV journalist, and former presidential speechwriter. Her books include her critically acclaimed journalistic study, The New Faithful, and her spiritual memoir, My Sisters the Saints, which won two national awards and has been published in five languages. Colleen has written for The New York Times, Washington Post . . . 
Praise for Colleen's Books: