Speaking
Colleen speaks across North America and Europe to audiences both academic and popular, Christian and secular, young and young at heart. Since 2002, approximately 60,000 people have heard her speak at more than 120 events.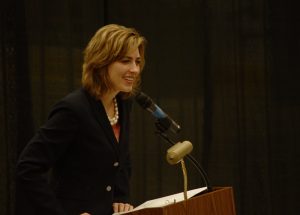 Colleen serves most often as a keynote speaker at large Christian and women's conferences. She also has delivered commencement addresses at universities, endowed lectures at colleges and hospitals, day-long retreats at military bases and keynotes at youth rallies, fundraisers and national gatherings of media, political and religious leaders.
Her reach is ecumenical: Colleen has headlined official diocesan events in two dozen Catholic dioceses, as well as speaking at evangelical and mainline Protestant conferences sponsored by groups ranging from the National Council of Churches to the Gaither Praise Gathering and C.S. Lewis Institute. She has received invitations to speak at the White House and Capitol Hill, has served as a delegate to a Vatican congress and recently keynoted an international gathering of scholars at the University of Ávila in Spain to commemorate the 500th anniversary of St. Teresa of Ávila's birth. 
Colleen's favorite topics are her books and issues related to Christian spirituality, culture and women. She can't accept as many invitations as she'd like, but she's always grateful for the chance to consider them.
Invite Colleen to speak at your event.
Download Colleen's press packet.
Order CDs and MP3 downloads of Colleen's popular talk on "The Feminine Genius."
View a list of past speaking events.

UPCOMING EVENTS
Pauline Books & Media, St. Louis
Talk and book signing
Date: 5/15/2019
Time: 7 p.m.
Location: Pauline Books & Media, St. Louis, MO
Barnes & Noble, Philadelphia area
Talk and book signing
Date: 5/19/2019
Time: 3 p.m.
Location: Barnes & Noble Valley Forge, Devon, PA
Catholic Information Center, Washington, DC
Talk and book signing
Date: 5/20/2019
Time: 6 p.m. – 8 p.m.
Location: Catholic Information Center, Washington, D.C. 
St. Louis Church, Baltimore area
Talk and book signing
Date: 5/21/2019
Time: 7 p.m. – 9 p.m.
Location: St. Louis Church, Clarksville, MD  
Centennial celebration, Philadelphia area
Talk and book signing
Date: 5/22/2019
Time: 7 p.m. – 9 p.m.
Location: St. Agnes Parish, Sellersville, PA 
Pauline Books & Media, Alexandria, VA
Talk and book signing
Date: 5/23/2019
Time: 7 p.m.
Location: Pauline Books & Media, Old Town Alexandria, VA
2015 Commencement Address at Immaculata University
2013 Commencement Address at Franciscan University of Steubenville