The Heart of Perfection:
How the Saints Taught Me to Trade My Dream of Perfect for God's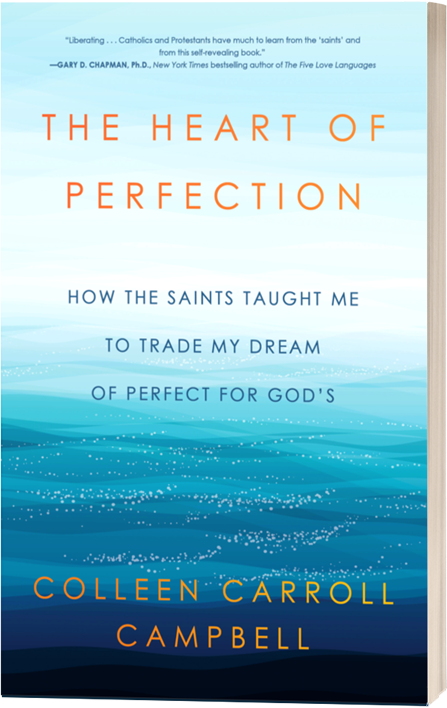 * Catholic Press Association 2020 Book Award Winner *
BUY NOW FROM:
Publisher's description:
An award-winning author, former presidential speechwriter, and mother of four weaves stories of her own struggles against control, comparison, and impossible expectations with those of seven ex-perfectionist saints (and one heretic) who teach us to pursue a new kind of perfection: freedom in Christ.
THE HEART OF PERFECTION PRESS KIT

"A useful guide … to the rigors of humility and the joy of grace." — Booklist
"Full of insight … opens up a world of radical dependence on God's grace." — America Magazine
"Poignant." — National Catholic Register
"Recommended." — Library Journal
"Liberating. Catholics and Protestants alike have much to learn from this book." — Gary D. Chapman, Ph.D., NYT-bestselling author of The Five Love Languages
"A must-read." — Jeannie Gaffigan, producer of "The Jim Gaffigan Show" & NYT-bestselling author of When Life Gives You Pears
"Grace-filled and life-giving." — Sarah Mackenzie, author of The Read-Aloud Family & Teaching from Rest
"Lyrical prose and candid storytelling." — Katelyn Beaty, author of A Woman's Place & former managing editor of Christianity Today 
"Absolutely excellent. I wish it to be read by everyone!"  — Fr. Jacques Philippe, author of Searching for and Maintaining Peace, Interior Freedom & Time for God
"Gives us permission to walk in freedom." —Jennifer Fulwiler, SiriusXM host & author of One Beautiful Dream
"Engaging personal testimony and the masterful re-telling of lives of relatable saints." —Fr. Michael Gaitley, author of 33 Days to Morning Glory
Campbell … balances confessional anecdotes with persuasive modern interpretations of the lives of the saints in this enjoyable testimony. … Campbell is a fluid writer, making her histories and personal anecdotes blend seamlessly … Perfectionists of any religious persuasion will benefit from this gratifying work. 
In The Heart of Perfection, Colleen Carroll Campbell explores the real lives of saints with the scrutiny of an investigative journalist and highlights their quest for the perfect love of God.  … Like so many women (and men) today who are caught in the endless hamster wheel of trying to be perfect, Campbell spent her life striving for her ideal self, and surpassed her own goals. … In this deep and thoughtful reflection on herself, the generations of perfectionist women she came from, and with a broad-daylight exposé of the lives of the not-so perfect saints, Campbell realizes that setting the bar so high is detrimental; trying to be perfect only results in beating yourself up for not being perfect. The Heart of Perfection is a must-read for those of us whose pursuit of perfection is just creating the 'perfect' trap.
With lyrical prose and candid storytelling, Colleen Carroll Campbell unpacks the perfectionism that keeps many of us striving to impress God and others, often to exhaustion. Yet instead of offering the quick fix of self-help platitudes, Campbell draws us into the rich and complex lives of the saints. Separated by centuries and culture, the saints nonetheless become like friends in Campbell's telling, revealed to us as wonderfully human yet transformed by grace. May this book be a conduit of grace for many readers.
Part hagiography, part self-help, Campbell's latest is a useful guide for perfectionists and others to the rigors of humility and the joy of grace.
Drawing inspiration from saints … the author interweaves biblical scripture with stories from her own life …[and] makes the case that God's love cannot be earned. … Recommended for public libraries with collections supporting spiritual journeys and parenting.
Today's culture preaches salvation through perfectionism, and many of us have ended up stressed out and miserable from trying to do everything the 'right' way. The Heart of Perfection gives us permission to step out of the straitjackets we've forced ourselves into, and walk in the freedom of God's unconditional love.

This is a well-written book for any—and this is no small number today—whose lives feel too pressured, who feel that, no matter how hard they try, they can never measure up to what God expects.  Colleen Carroll Campbell, with a rich blend of personal experience and the witness of the saints, real saints, with real lives and struggles like our own, points the way to freedom from a burden that God never wanted us to carry.  If you feel that you work hard but always come up short in God's eyes, this is the book for you.

Colleen Carroll Campbell writes with the confidence and spark of an experienced writer as well as with the contagious, personal passion of a spiritual seeker. … Her message is compelling, suggesting remedies and challenging the reader to address the perfectionism that is force-fed to most of us from our earliest years by misguided representatives of both the social and religious cultures of our time.

Catholics and Protestants have much to learn from the 'saints' who have gone before us, and from this self-revealing book by Colleen Carroll Campbell. Colleen unveils the reality discovered by many who have gone before us that true satisfaction, peace, and joy are not the results of our efforts to live a perfect life, but come as a gift of God's love. To all who are burdened with shame and guilt in their efforts to do life right, the message of this book is liberating.
Whenever you find yourself comparing, competing, and trying to earn a gold star in life, read The Heart of Perfection. Colleen Carroll Campbell's writing is grace-filled and life-giving. I loved this book!

This book is absolutely excellent and meets a very present need of many people. I wish it to be read by everyone!
Not always consciously, we are marked by a certain perfectionism, the feeling that to deserve God's love and the love of others we must be perfect beings and follow a faultless journey to God. This perfectionism may seem generous and express the commitment to be good Christians, but it is actually disastrous. From her personal experience, from the example of the saints, from her meditation on Scripture, Colleen shows us with great spiritual truth and psychological sharpness how this perfectionism manifests itself, its consequences, and how to get rid of it to enter into the true freedom of the children of God.
One thing that gives me great joy in this book is to see how a woman, wife, and mother, engaged in a very active professional life, living in the complicated context of our society, can reach such an authentic experience of God and deep spiritual wisdom – something that may have been thought to be reserved for some particular vocations, such as religious life. This is an immense encouragement to lay people today who sometimes think that struggling with the problems of everyday family life may be an impediment to progress in the spiritual life. Colleen shows us that it's the opposite, and we should be very grateful to her.
Delving into Campbell's journey is like looking in a mirror revealing our own fears, pride, shame and fantasies of control that hold us back from accepting God's grace. Her book reveals that spiritual perfectionism is not just a problem for helicopter parents and driven careerists. It is something we all struggle with…. The Heart of Perfection is full of insight into what motivates us to attempt to reach holiness through our own strength and how this obsession holds us back from spiritual progress. But Campbell does not invite us to a watered-down spirituality that resigns us to a "You're okay, I'm okay" mentality. Instead, she opens up a world of radical dependence on God's grace and the patient, humble obedience that draws us close to the heart of Jesus.
Poignant … There is so much to relate to in this book — from the outlined perfectionism traits via personal examples to the lessons from the saints who are highlighted. … The saintly wisdom makes this well worth the read.
Perfectionists already know many of the truths that can set us free. For instance, we know that God loves us, that he's trustworthy, and that we don't have to earn his love. But knowing is not enough. We also need such truths to penetrate our hardened hearts and calm our frazzled nerves. This book is here to help. Through engaging personal testimony and the masterful re-telling of lives of relatable saints, it effectively heals wounds that keep us from the joyful freedom of the children of God.